Original Flying Saucer Kits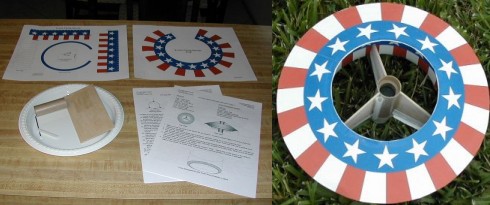 7.25 inch Stars & Stripes Original Flying Saucer Kit
7.25 inches in diameter, 3 inches high and weight 0.9 ounce (25 grams). 24 mm motor mount and 3/16" launch lug. Recommended engines
Estes C11-0, C11-3, C11-5, D11-P, D12-0, 12-3, D12-5, E9-P, E9-4
and
ALL
Aerotech
24mm Single Use and RMS 24/40 reloads.
10.25 inches in diameter, 3.25 inches high and weight 1.5 ounces (43 grams), 29 mm motor mount and 3/16" launch lug. Recommended engines:
Ellis Mountain G35
, All
Roadrunner
29mm single use motors and All
Aerotech
29mm Single Use and RMS 29/40-120 reloads .
All these rockets ascend slowly. At apogee they flip over and glide down slowly and safely using aerobrake recovery. There is no complicated recovery system to fail. The fins are high quality Basswood and the Saucer Section is 110 lb Card Stock. Engine hooks are used on the 6" & 7.25" flying saucers for positive engine retention. Engine hooks are not used on the 10.25 inch flying saucers so that many different motors can be used. These kits are intended for the rocketeer looking for a new challenge and something out of the ordinary. With their high visibility and slow ascent and recovery, they are real crowd pleasers. NO long walks to recover you rocket either, even on a windy day.
The products on this website are copyright protected.
Copying, cloning and any other reproduction is strictly prohibited without permission from
Art Applewhite Rockets
Copyright © 2012