3 Stage Cluster Cone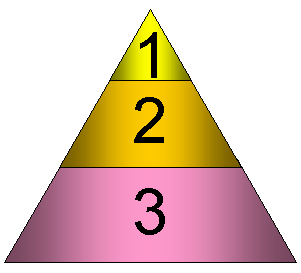 This is a 3 stage, Clustered Cone rocket with 5 motors in it's full power configuration
Stage 1 - Top - 13mm A10-PT
Stage 2 - Middle - 18mm C6-0
Stage 3 - Bottom - 3 x 24mm inline motor cluster, D12-0 center, 2 x D11-P outboard

The rocket is 8" high and 9.25" in diameter at the base. It is constructed entirely out of cardstock and foambacked posterboard using white glue. All 3 stages use ultra reliable aerobrake recovery.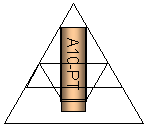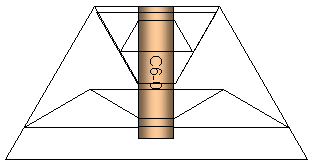 Cutaway Views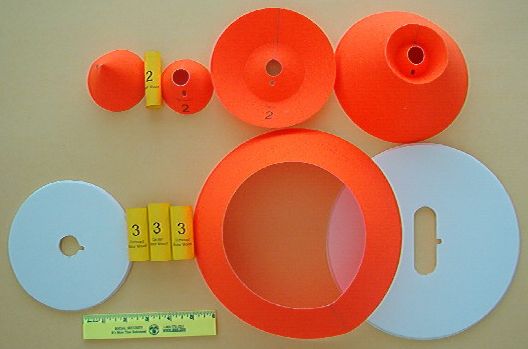 Parts - Stage 1, top leftmost, Stage 2, the rest of the top row, Stage 3, entire bottom row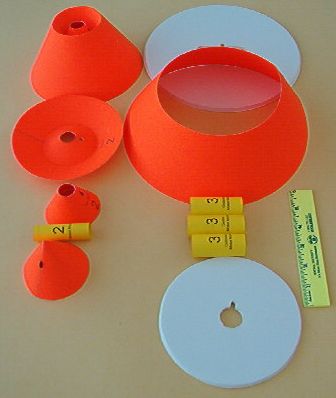 Another view of the parts - Orange = posterboard, Yellow = Cardstock, White = Foam backed Posterboard

Material List

Description

Source

Quantity

Cost

Flourescent Posterboard

Hobby Lobby

1 Sheet

$0.79

Foam-backed Posterboard

Hobby Lobby

1 Sheet

$1.99

Cardstock 8.5" x 11"

Walmart

2 Sheets

$0.07 ($4.97/150)





Total:

$2.89

Cardstock and foamboard patterns (descon14.pdf)


The motors are stacked for insertion into the rocket. (Click on the picture for more detail.
The nozzle end of the motors are inserted about 0.25" into the forward end of the next motor.
The motors are inserted into the rocket bottom stage first and then second stage and top stage in turn.
Only the top stage(A10-PT) needs to be friction fitted, the others are held in place by the top stage and aerodynamic forces.


2 versions were built. The first is a 2 stage version made from 65 lb yellow cardstock and printed on a laser printer. The seconds version is the full 3 stage, cluster made from Orange "Royal" brand posterboard shrouds, yellow cardstock motor mounts and white foam backed posterboard.

Flight Reports

Date

Configuration

Motors

Results

August 21, 2004

2 Stage

Stage 1 - A10-PT
Stage 2 - B6-0

Good straight flight in light winds, good recovery

August 21, 2004

3 Stage cluster

Stage 1 - A10-PT
Stage 2 - B6-0
Stage 3 - D12-0, 2 x D11-P

This is the full power configuration. Good intial Stage 3 boost on 3 "D" motors. Stage 2 ignition was good but Stage 1 separated from Stage 2 in the middle of its boost. Stage 2 continued to fly staight without Stage 1. All stages returned safely because of the ultra-reliable aerobrake recovery method used for all 3 stages.

August 21, 2004

2 Stage

Stage 1 - A10-PT
Stage 2 - C6-0

Good flight with slight weather cocking in a moderate wind, good recovery


Flight Photos
First Flight

| | | |
| --- | --- | --- |
| 2 stage version waiting on the pad | 2 stage version after flight | 2 stage version Bottom after flight with some minor scorching on the bottom of Stage 1 |
Second Flight

| | | |
| --- | --- | --- |
| 3 Stage, cluster version waiting on pad | 3 stage, cluster version after flight with some minor scorching on the top of Stage 3 | 3rd Stage landing |
Third Flight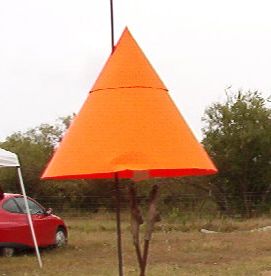 3 stage version being flown in 2 stage configuration using A10-PT & C6-0 motors

Art Applewhite - www.artapplewhite.com