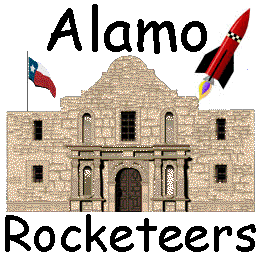 June 18, 2011 - Alamo Open One and
Monthly Launch
Art Applewhite's Photo Album
of the launch
Alamo Open One Standings
1/8A Streamer Duration
| | | | | | | | |
| --- | --- | --- | --- | --- | --- | --- | --- |
| Place | Contestant | Number | Section | Flight 1 | Flight 2 | Total | Points |
| C Division | | | | | | | |
| 1 | Schroeder, Todd | 89723 | 661 | 29 | 32 | 61 | 160 |
| 2 | Vegh, Jeff | 92403 | 661 | 15 | 42 | 57 | 96 |
| 3 | Huber, Hal | 92830 | 661 | 27 | 12 | 39 | 64 |
| 4 | Applewhite, Art | 80632 | 671 | 5 | SEP | 5 | 32 |
A Altitude
| | | | | | | | |
| --- | --- | --- | --- | --- | --- | --- | --- |
| Place | Contestant | Number | Section | Flight 1 | Flight 2 | Total | Points |
| A Division | | | | | | | |
| 1 | Huber, Danielle | 92670 | 661 | 136 | | 136 | 200 |
| 2 | Xiong, Nicolas | 93505 | IND | LOP | 126 | 126 | 120 |
| -- | James, Nathan Ford | 91629 | 661 | SEP | | 0 | 0 |
| C Division | | | | | | | |
| 1 | Marshall, Dale | 90990 | 661 | 77 | 112 | 112 | 200 |
| 2 | Lee, John | 87285 | 661 | 78 | 93 | 93 | 120 |
A Helicopter Duration
| | | | | | | | |
| --- | --- | --- | --- | --- | --- | --- | --- |
| Place | Contestant | Number | Section | Flight 1 | Flight 2 | Total | Points |
| A Division | | | | | | | |
| 4 | Xiong, Nicolas | 93505 | IND | SHR | 19 | 19 | 80 |
| C Division | | | | | | | |
| 1 | White, King "KD" | 91610 | 661 | 52 | 52 | 104 | 400 |
| 2 | Lee, John | 87285 | 661 | 27 | 17 | 44 | 240 |
| 3 | Applewhite, Art | 80632 | 671 | 16 | 6 | 22 | 160 |
| -- | Vegh, Jeff | 92403 | 661 | NDP | NR (35 sec) | 0 | 0 |
| -- | Young, Stuart S. | 92265 | 661 | NDP | NDP | 0 | 0 |
C Egg Lofting Altitude
| | | | | | | | |
| --- | --- | --- | --- | --- | --- | --- | --- |
| Place | Contestant | Number | Section | Flight 1 | Flight 2 | Total | Points |
| A Division | | | | | | | |
| 1 | Xiong, Nicolas | 93505 | IND | 137 | | 137 | 360 |
| C Division | | | | | | | |
| 2 | Applewhite, Art | 80632 | 671 | EGG | 81 | 81 | 216 |
| -- | Saenz, Sam | 17514 | 661 | EGG | | 0 | 0 |
| -- | Vegh, Jeff | 92403 | 661 | EJ | EGG | 0 | 0 |
Open Spot Landing
| | | | | | | | |
| --- | --- | --- | --- | --- | --- | --- | --- |
| Place | Contestant | Number | Section | Flight 1 | Flight 2 | Total | Points |
| A Division | | | | | | | |
| 1 | Xiong, Nicolas | 93505 | IND | 14.0 | | 1400 | 80 |
| -- | Huber, Danielle | 92670 | 661 | SHR | | 0 | 0 |
| C Division | | | | | | | |
| 1 | Applewhite, Art | 80632 | 671 | 8.79 | | 879 | 80 |
| 2 | Saenz, Sam | 17514 | 661 | 9.0 | | 900 | 48 |
| 3 | Jeff Vegh | 92403 | 661 | 16.15 | | 1615 | 32 |
| 4 | Young, Stuart S. | 92265 | 661 | 46.0 | | 4600 | 16 |
| -- | Schroeder, Todd | 89723 | 661 | 48.0 | | 4800 | 8 |
| -- | Lee, John | 87285 | 661 | 51.0 | | 5100 | 8 |
| -- | Marshall, Dale | 90990 | 661 | 56.0 | | 5600 | 8 |
| -- | Larson, Glen A. | 92479 | 661 | NDP | | 0 | 0 |
Alamo Open One Results
| | | | | | | | |
| --- | --- | --- | --- | --- | --- | --- | --- |
| Contestant | NAR Number | Section | 1/8A SD | A ALT | A HD | C ELA | OSL |
| A Division | | | | | | | |
| Huber, Danielle | 92670 | 661 | | 136 | | | SHR |
| James, David Bradford | 91631 | IND | | | | | |
| James, Nathan Ford | 91629 | 661 | | SEP | | | |
| James, Oscar Lee IV | 84524 | IND | | | | | |
| James, Rebekah Lynn | 92435 | IND | | | | | |
| Means, Mikayla | 92732 | 661 | | | | | |
| Xiong, Nicolas | 93505 | IND | | LOP / 126 | SHR / 19 | 137 | 14.0 |
| C Division | | | | | | | |
| Applewhite, Art | 80632 | 671 | 5 / SEP | | 16 / 6 | EGG / 81 | 8.79 |
| Applewhite, Sonja | 84180 | 671 | | | | | |
| Huber, Hal | 92830 | 661 | 27 / 12 | | | | |
| James, O. Lee III | 15058 | 661 | | | | | |
| Larson, Glen A. | 92479 | 661 | | | | | NDP |
| Lee, John | 87285 | 661 | | 78 / 93 | 27 / 17 | | 51.0 |
| Marshall, Dale | 90990 | 661 | | 77 / 112 | | | 56.0 |
| Means, Denis II | 92531 | 661 | | | | | |
| Saenz, Sam | 17514 | 661 | | | | EGG | 9.0 |
| Schroeder, Todd | 89723 | 661 | 29 / 32 | | | | 48.0 |
| Vegh, Jeff | 92403 | 661 | 15 / 42 | | NDP / NR (35 sec) | EJ / EGG | 16.2 |
| White, King "KD" | 91610 | 661 | | | 52 / 52 | | |
| Young, Stuart S. | 92265 | 661 | | | NDP / NDP | | 46.0 |
Alamo Open One Points
| | | | | | | | | |
| --- | --- | --- | --- | --- | --- | --- | --- | --- |
| Contestant | NAR Number | Section | 1/8A SD | A ALT | A HD | C ELA | OSL | Total |
| A Division | | | | | | | | |
| Huber, Danielle | 92670 | 661 | 0 | 200 | 0 | 0 | 0 | 200 |
| James, David Bradford | 91631 | IND | 0 | 0 | 0 | 0 | 0 | 0 |
| James, Nathan Ford | 91629 | 661 | 0 | 0 | 0 | 0 | 0 | 0 |
| James, Oscar Lee IV | 84524 | IND | 0 | 0 | 0 | 0 | 0 | 0 |
| James, Rebekah Lynn | 92435 | IND | 0 | 0 | 0 | 0 | 0 | 0 |
| Means, Mikayla | 92732 | 661 | 0 | 0 | 0 | 0 | 0 | 0 |
| Xiong, Nicolas | 93505 | IND | 0 | 120 | 80 | 360 | 80 | 640 |
| C Division | | | | | | | | |
| Applewhite, Art | 80632 | 671 | 32 | 0 | 160 | 216 | 80 | 488 |
| Applewhite, Sonja | 84180 | 671 | 0 | 0 | 0 | 0 | 0 | 0 |
| Huber, Hal | 92830 | 661 | 64 | 0 | 0 | 0 | 0 | 64 |
| James, O. Lee III | 15058 | 661 | 0 | 0 | 0 | 0 | 0 | 0 |
| Larson, Glen A. | 92479 | 661 | 0 | 0 | 0 | 0 | 0 | 0 |
| Lee, John | 87285 | 661 | 0 | 120 | 240 | 0 | 8 | 368 |
| Marshall, Dale | 90990 | 661 | 0 | 200 | 0 | 0 | 8 | 208 |
| Means, Denis II | 92531 | 661 | 0 | 0 | 0 | 0 | 0 | 0 |
| Saenz, Sam | 17514 | 661 | 0 | 0 | 0 | 0 | 48 | 48 |
| Schroeder, Todd | 89723 | 661 | 160 | 0 | 0 | 0 | 16 | 176 |
| Vegh, Jeff | 92403 | 661 | 96 | 0 | 0 | 0 | 32 | 128 |
| White, King "KD" | 91610 | 661 | 0 | 0 | 400 | 0 | 0 | 400 |
| Young, Stuart S. | 92265 | 661 | 0 | 0 | 0 | 0 | 16 | 16 |
| Sections | | | | | | | | |
| Alamo Rocketeers | | 661 | | | | | | 1592 |
| Hill County Rocketeers | | 671 | | | | | | 488 |
| IND | | 0 | | | | | | 640 |
Comments from the Southwest Contest Board member:
1. Danielle Huber's OSL RTF flight is a "correctable condition" per USMRSC 11.8 and the flight is unofficial. No points, but does not count against her. Had this been spotted during the contest, she would have been allowed another attempt at an official flight.
2. C ELA had only two qualified flights - yours and Nicolas Xiong. A and C divisions were combined. Nicolas had an exceedingly good flight.
3. KD White scored 52 seconds on BOTH of his A HD flights. There oughta be a "Consistency" award. ;-)

Raw Data from the NAR Open Meet
This is only the preliminary data, not the Official Results
All standing are subject to change
The United States Model Rocket Sporting Code (Pink Book)
A Altitude
| | | | | | |
| --- | --- | --- | --- | --- | --- |
| Division | Name | NAR # | Flight 1 | Flight 2 | Remarks |
| C | John Lee | 87285 | 257 | 306 | |
| C | Dale Marshall | 90990 | 251 | 367 (DQ) | Flt2- Spit motor |
| | | | | | |
| A | Danielle Huber | 92670 | 446 | | |
| A | Nathan Ford James | 91629 | DQ | | Flt1-Separation |
| A | Nicolas Xiong | 93505 | 219 (DQ) | 412 | Flt1-Unstable |
C Egg Loft Altitude
| | | | | | |
| --- | --- | --- | --- | --- | --- |
| Division | Name | NAR# | Flight 1 | Flight 2 | Remarks |
| C | Art Applewhite | 80632 | 392 (DQ) | 266 | Flt1-Egg Lost |
| C | Sam Saenz | 17514 | 416 (DQ) | | Egg Broke |
| C | Jeff Vegh | 92403 | 401 (DQ) | 407 (DQ) | Flt1-Spit Motor, Flt2-Broke Egg |
| | | | | | |
| A | Nicolas Xiong | 93505 | 449 | | |
1/8A Streamer Duration
Division
Name
NAR#
Flt 1
Timer 1
Flt 1
Timer 2
Flt 1
Average
Flt 2
Timer 1
Flt 2
Timer 2
Flt 2
Average
Total
Time

Remarks

C
Art Applewhite
80632
5.27
5.31
5.29
9.11
8.38
DQ
5.29
Flt 2-
Separation
C
Hal Huber
92830
24.13
24.38
24.26
12.13
12.34
12.24
36.49


C
Todd Schroeder
89723
25.93
32.72
29.33
32.03
32.03
32.03
61.36


C
Jeff Vegh
92403
15.12
15.17
15.15
42.19
42.4
42.3
57.44


A Helicopter Duration
Division
Name
NAR#
Flt 1
Timer 1
Flt1
Timer 2
Flt 1
Average
Flt 2
Timer 1
Flt 2
Timer 2
Flt 2
Average
Total Time

Remarks

C
Art Applewhite
80632
15.7
15.78
15.74
5.56
6.03
5.8
21.54


C
John Lee
87285
27.3
27.5
27.4
17.01
16.87
16.94
44.34


C
KD White
91610
51.83
51.22
DQ

54.03
49.99
52.01
52.01
Flt1- Spit Motor

C
Jeff Vegh
92403
10.09
10.03
DQ

33.73
36.49
DQ
DQ

Flt1-No deploy
Flt2-No return

C
Stuart Young
92265
6.8
8.1
DQ

6.4
6.69
DQ
DQ
Flt1&2, No deployment






















A
Nicolas Xiong
93505
3
2
DQ
17.97
17.93
17.95
17.95
Flt 1 Shred
Open Spot Landing
| | | | | |
| --- | --- | --- | --- | --- |
| Division | Name | NAR# | Distance in feet | Distance in Meters |
| C | Art Applewhite | 80632 | 28'10" | 8.79 m |
| C | Glen Larson | 92479 | DQ | No deployment |
| C | John Lee | 87285 | DQ | >50 m |
| C | Dale Marshall | 90990 | 56' | 17.07 m |
| C | Sam Saenz | 17514 | 29'4.5" | 8.95 m |
| C | Todd Schroeder | 89723 | 156' | 47.54 m |
| C | Jeff Vegh | 92403 | 53' | 16.15 m |
| C | Stuart Young | 92265 | 150' | 45.72 m |
| | | | | |
| A | Danielle Huber | 92670 | 15'8" | 4.76 m |
| A | Nicolas Xiong | 93505 | 47' | 14.33 m |
Monthly
Launch flights
| | | | | |
| --- | --- | --- | --- | --- |
| Name | Rocket | Motor | Recovery | Remarks |
| Dale Marshall | Nike Smoke | A8-3 | Parachute | New Way Space Models |
| Dale Marshall | Screaming Green Meanie | C11-3 | Parachute | Pemberton Tech |
| Dale Marshall | Red Barron | C6-3 | Glider | Squirrel Works |
| Denis Means | AS-1 Fighter Escort | A8-3 | Streamer | |
| Devon Carrillo | BMS School Rocket | B6-4 | Streamer | |
| Devon Carrillo | BMS School Rocket | B6-4 | Streamer | |
| Devon Carrillo | BMS School Rocket | B6-4 | Streamer | |
| Harold Sanders | Estes Screamer | 1/2A | Streamer | |
| Harold Sanders | Alpha III | B/C | Nose Pop | 2 Stage |
| Harold Sanders | Bomarc | D | Parachute | |
| Harold Sanders | SRAM | C | | |
| Harold Sanders | Sat Intercept Upscale | D | Parachute | |
| Harold Sanders | Patriot | C | Parachute | |
| Harold Sanders | Interceptor | C | Parachute | |
| Harold Sanders | Space Ship One | C | Parachute | |
| Harold Sanders | Patriot | 4 X D | Parachute | Cluster |
| Mikayla Means | H. Flyer | A8-3 | Streamer | |
| Oscar Lee James IV | Flash | 1/2A6-2 | Streamer | |
| Todd Schroeder | Dragonite | B6-4 | Streamer | |
Questions? Contact Art Applewhite, Senior Advisor at (830)896-6331 or
rocket877@aol.com